MY SIZE AT FASHION WEEK // a NYFW photo series
Babes of all shapes and sizes now have a seat at the fashion week table.
When I decided to try and go to New York Fashion Week this February, I wanted to go with purpose. I've always dreamt of going, but what if I went and didn't belong?
The stylist part of me would surely fit in, because I've been helping design costumes and wardrobe for film/tv for years and I just geek out over fashion in general.
But the style blogger part of me thought… would I really have a place on my platform for these sorts of runway shows? Could my audience that I've worked so hard to genuinely build feel a little less empowered by seeing women that might not represent their body types on the runway?
So, partially due to the media and fashion industry standards, I grew up not only thinking but BELIEVING that I wasn't enough. I can honestly say there was not ONE female celebrity to look up to who was above a size 4. Thank God my daughters will have more diverse women to look up to in the media!
Because of this, in the back of my mind I just really wasn't sure that if I went I would fit in. Watching runway shows for fashion inspo is great, but seeing someone who looks like you on the runway is LIFE CHANGING.
Now, there IS something that goes on during Fashion Week that is for plus size women called The Curvy Con. It sounds AMAZING and I am dying to go to it. I think it's incredible what they've done for representing more women on the runway.
But for the stubborn little girl who spent a large part of her life just wanting to belong, that just wasn't enough. I wanted to go to New York Fashion Week, sit at the same studios everyone else does, and see some high end designer runway shows with women who looked like me. I mean come on, is that too much to ask? ;)
So this year when I decided to go, I did my research and pitched brands, designers and PR firms. My hard work paid off, because I ended up getting invited to some of the biggest and most diverse fashion shows. The major groundbreaking show that I still can't believe I attended was 11 Honoré (Click here to read more on why they're revolutionary and here to get the scoop on their show at NYFW). I also got to see CHROMAT which is known for diversity and I got chills during the entire show!
While I was there I was able to meet up with the following boss babes to do a fun photo series called #MySizeAtFashionWeek. My dream for this project is to leave you feeling inspired and encouraged, no matter what size you are or what stage you're at in life. Going back through these photos, I can feel the magical energy of each moment and I hope you can too.
This is about the fact that style truly has no size, and you can literally do whatever you want you just have to trust yourself and go for it. Size inclusivity is important to me because I've been on both sides of the spectrum personally, and I work with women of ALL shapes and sizes.
photography: Naomi Hopkins
I met Tacha on the first day of NYFW and she stopped me in the street to tell me how much she loved my fur jacket. I was obsessed with her look! I didn't get to spend much time with her but I LOVE her style!
follow her for: fashion inspiration, runway fashion coverage, fun style posts
I met Sarah at the 11 Honoré runway show and she was the nicest. person. ever. right out the gate! I appreciated this, because Hi, I'm at a fashion show where I barely know anyone and, as I'm sure you can imagine, not everyone was the friendliest. We'd never talked before, although I had been following her on IG for a few months. Sarah resides in NYC and has been slaying the body positive blogging game for years. I'm so happy I've made this connection with her, she is genuine, unique, and so passionate about what she's doing.
follow her for: body positive vibes, plus size fashion with an edge, NYFW coverage (this girl gets amazing front row seats to all the shows and she does an awesome job covering it all)
photography: Viva Lux Photography
If you've been following me for awhile, you know that Mireille and I have been doing our own #STYLEHASNOSIZE series for awhile and we love that showing and inspiring people that no matter what size you are, you can have style. She is a true gem and has a genius, artistic way of putting outfits together. I love her both as a blogger and as a true friend! We shot this look together and didn't even realize we were both wearing sequins, fur, and see thru purses. Love it!
follow her for: style inspiration, outfit inspiration, mom life, IG stories, unexpected fashion that you'll love
photography: Naomi Hopkins
I started following Maddy awhile ago and fell in love with her realness and vulnerability on social media. Her stories are great and when I watch them I feel like I'm just hanging out with her! I love her sense of style - she has fantastic taste! She also does TRY-ONS which are always amazing! I was able to meet her IRL during NYFW and she is an incredible human being.
follow her for: beauty and skincare, plus size style, classic style, mom life, city living, try ons
photography: Naomi Hopkins
I met Gess at an event for Torrid last Spring and I couldn't stop telling her how gorgeous she is. Ha! But seriously. Then I got to know her and she's even more beautiful on the inside! She's a total boss babe and I was so excited to see her at fashion week! She walked in the runway show for Loft at CurvyCon last fall and I just absolutely love her spirit.
follow her for: inspiration, body positivity, style inspiration, outfits, empowerment
photography: Arielle Lewis Studios
I've known Dani via Instagram for the past year or two, and I've always looked up to her. She gave me SO much advice on how to go to Fashion Week and she has always been an inspiration to me. Our schedules were packed so we didn't get to meet up until our last day, but the moments I got to hang out with her were nothing short of magic! She has been at this blogging game for awhile, and was one of the first fashionista plus size bloggers I followed.
Follow this babe for: sparkle, plus size style, beauty and makeup, fashion tips, happy captions, posts with meaning, colorful and fun photos
fashion & beauty director: @MadameNoir , @hellobeautiful
photography: Naomi Hopkins
I met Danielle after seeing a show because I couldn't stop staring at her fab DVF shoes (as seen in these photos). She's good friends with Sarah (@curvily) so she tagged along with us as we were heading to go shoot these photos. I instantly loved her sense of power and grace. This girl can WORK it on camera but she's also got the kindest soul. Turns out, she ALSO is the queen of all things beauty and went backstage to so many NYFW shows. Her NYFW coverage was BOMB so make sure you check out her highlights.
follow her for: positivity, empowerment, beauty, style inspo, NYFW coverage, real talk
photography: Morgan Hayes
Jessica is a full-time mom slash fashion blogger from Atlanta. She is actually the one who pushed me to try to go to NYFW and I'm so glad she did! She, like me, was also a first timer who had always wanted to go to fashion week but wasn't sure she really belonged. But guess what? She KILLED IT, making it in to so many shows and networking with so many people while there.
follow her for: outfit inspiration, style tips, hair goals, mom life, try-ons
founder of @thethickproject
photography: Naomi Hopkins
I met Kristen on Day 1 of NYFW and she made me feel so comfortable! I had no idea what I was doing and she totally helped me out. This girl is so passionate about all bodies being beautiful and I'm so grateful I met her! I saw her at seriously every fashion show and she did a great job covering it.
follow her for: style inspiration, empowerment, outfit inspo, hair goals, colorful photos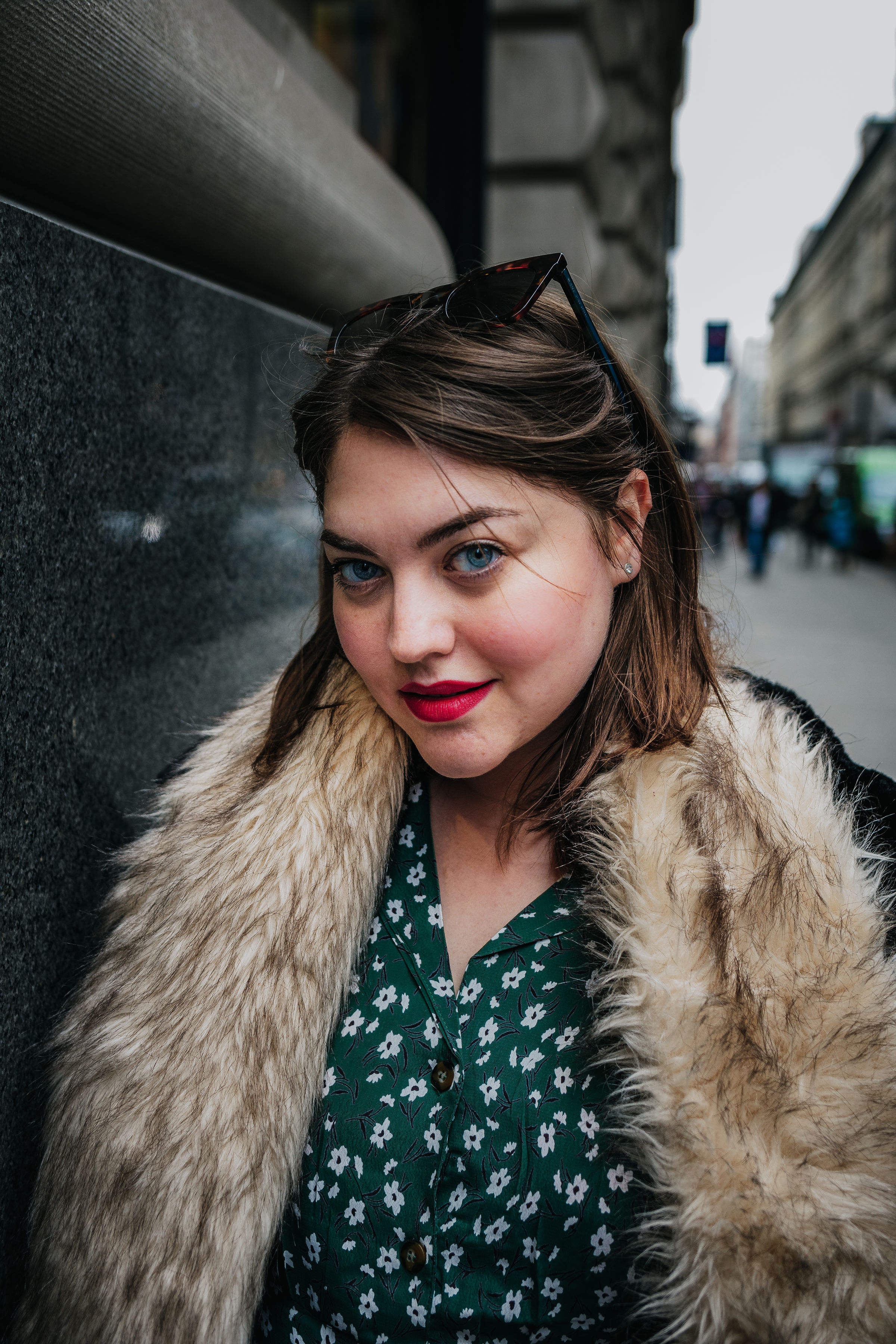 WOW. It shouldn't surprise you that this smokeshow is one of the biggest models in the plus size industry right now. I seriously see this girl every single time I'm shopping online, no matter what store it is! She is not only beautiful, but incredibly sweet and hilarious. I ran into her at the 11Honore show and I'm so glad we got to meet up for a bit the next day.
follow her for: plus size fashion inspiration, body positivity, fun photos, IG stories, style tips, behind the scenes